Patricia O'Sullivan is the author of Hope of Israel and the forthcoming Legend of the Dead, the story of a refugee from Dutch Brazil who is among the first group of Jewish settlers in the North American colony of New Amsterdam and A Notable Occupation, which chronicles the destruction of the thriving Jewish communities of Newport and St. Eustatius during the War for American Independence. She can be reached for comment at legendofthedead.blogspot.com and pluceyo@gmail.com 
MJK: I couldn't help noticing, in FINDING EMILIE, that your descriptions of pre-Hausmannian Paris, Vaux-le-Vicomte, and other locations were quite accurate. I happen to be familiar with these places. Is travel an essential part of your research?
CLAUDE & CAMILLE: 
Creating a novel about the young Claude Monet and his great lost love
by Stephanie Cowell
I suppose it was natural that I write a novel about an artist. My parents were both artists and I grew up being careful not to knock over the easel, or eat any of the fruit my father was painting. I loved the smell of oil paints and linseed oil and the neat marmalade jars full of tall paint brushes and more delicate ones for my mother's ink drawings. I was taken to museums and to the famous Art Students' League in New York City where my mother taught and I saw, to my five-year-old astonishment, a perfectly nude woman standing on the model's platform in front of everyone without any embarrassment whatsoever.
I grew up also with stories of the hardships suffered by the great artists before they were discovered but it was not until after publishing my fourth novel that my editor said, "Why don't you write about an artist?" Several years before that I had visited an exhibition at the Metropolitan Museum called The Origins of Impressionism and there I fell in love with the paintings the young Claude Monet created in his twenties and thirties. I also fell in love with the deep friendship between a group of young painters (Renoir, Pissarro, Bazille, Cézanne) who were struggling to have their work accepted. It was several years before they would band together for their first independent exhibition and would be dubbed Impressionists by an irate critic who thought their paintings were dreadful!
And in reading what is known about Monet in his younger years (through letters mostly between the artists and Monet's not very accurate memories written nearly forty years later) I first heard of Camille. I was quite amazed to find in my many art books that he painted her so very often, and not only as a subject surrounded by light, but actual portraits of her beautiful face. She was upper middle-class and just nineteen when they met; he had to hide her existence from his father who was supporting him. She became pregnant and when he decided to stand by her, both her parents and his cut them off without a franc. Since he could hardly feed himself, it was a disaster. They lived for years in poverty, thrown from their rooms when they could not pay rent, often with a choice of food or paint. He was desperate and it wore on their love.
But like most of the models for great artists, little remains to tell us much about her. Frustrated, I wrote to the major Monet scholar in this country and asked, "What can you tell me about Camille," and he wrote back, "Almost nothing."  I had a handful of facts, a few comments in diaries and letters from friends, and many pictures painted by her devoted but poverty-struck young lover/husband. She only lived until 32 and in her last months he was so frantic trying to put food on the table he perhaps did not give her proper care. When she died, he had to ask a friend to get her necklace out of pawn so he could bury her in it. And then a few years later he moved away to Giverny and her grave was forgotten. Yet many historians believe Camille haunted him all his long life and it was her spirit he sought in the water lilies. He kept her portrait in his bedroom until he died.
Why did she leave no letters or diaries? Historians now believe Claude's second wife Alice may have destroyed them; if indeed he kept a portrait of Camille in his bedroom, Alice may have had reason to be jealous. I think any papers may have been left behind in the hasty move to Giverny when Claude and Alice were frantically trying to find money to pay the moving men.
So I was intensely interested in filling in the pieces of this tragic love story of a young man who desperately wanted to make a good living and give the young woman he loved everything. That the young man would emerge to be the best loved artist in the world makes it more poignant. "Why didn't he get a regular job and support his family?" book club members ask me, sometimes indignantly. I think the obsession of painting, only painting, and following his muse, led to his ability to eventually create the impossible images of water, flowers, air and sky which we love so much today. He would be astonished to find a poor reproduction of the passion to which he gave his life on a mouse pad or coffee mug. He would not know what to think if he knew that his painting Impression: Sunrise, which was called by a critic a "bad design for wallpaper," can be indeed purchased today as wallpaper.
The flower/water lily paintings when seen in the priceless originals have a devastating passion to them. They are a man's search for reason and perhaps for lost love.
I decided to tell the story of that love and after five years of revisions and my own struggles with history and feeling, it became Claude and Camille: a novel of Monet.
April 1, 2011: CHRISTY ENGLISH, A
uthor of 
To Be Queen: A Novel of the Early Life of Eleanor of Aquitaine
Novels about competition between ambitious, intelligent women in the Tudor and Plantagenet courts have proved enormously successful, and for a good reason. These are stories of loss of innocence and female empowerment in a ruthless world, and they illustrate that when it comes to human nature, the more things change, the more they stay the same. 
With her first novel, THE QUEEN'S PAWN, Christy English established her ability to get inside the 
hearts and 
minds of female royalty, to paint vivid scenes of life in a medieval castle
, and to bring to life the betrayals, rivalries, and costs of ambition. Her new novel, TO BE QUEEN, will be available on April 5th. Good luck, Christy!
In the fascinating blog post below, Christy discusses the uneasy relationship between Eleanor of Aquitaine and the Church.
Eleanor of Aquitaine and The Church
In Mitchell Kaplan's brilliant novel, BY FIRE, BY WATER, one of the major world events that we as readers get to watch is the rise of the Inquisition to power in Spain. Eleanor of Aquitaine had her own struggles with the Church throughout her life. Though bishops and popes make powerful allies, they also make intractable enemies. Eleanor was too savvy to make an enemy of a pope, but she did have more than one run in with abbots and bishops.
Eleanor of Aquitaine was Queen of France from 1137-1152, and Queen of England from 1154-1189.  She ruled alongside her husbands, Louis VII of France and Henry II of England during a time when the relationship between the Church and the princes of Europe was in flux. 
Since the time of Charlemagne, the Church wielded a huge influence over the spiritual life of Western Europe, but during Eleanor of Aquitaine's life, the Church of Rome also began to make serious inroads to political power. The Church did this by increasing their spiritual influence over the kings, princes and dukes who had wielded the power of the sword for centuries. 
The Church took over the blessing of marriages, births and deaths. It also used its power to excommunicate kings and princes who were not politically obedient. In these early days, the power of excommunication was limited. For example, Eleanor's first husband, Louis VII, though well known for his devotion, was held under Interdict for challenging the Church. The king virtually ignored these strictures, being brought back into line with the Church years later. Louis was not alone; the Papacy of Rome was reaching out through its bishops all over Europe to consolidate and centralize its power.
Eleanor, and many princes and dukes like her, stood against this encroachment of the Church. She encouraged her young husband Louis to stand firm against the political ambitions of the Abbot Suger, though she lost these struggles with the powerful abbot as often as she won. She supported Louis when he defied the Papacy over who got to choose the bishops in France: the king or the Church. For centuries, the King had appointed bishops, but under Louis' reign the Church began giving the posts of bishops not to political advisors of the king, but to men of their own choosing.
Interior of the Cathedral of St. Denis
Completed by Louis VII's Mentor and Eleanor's Rival for Power, Abbot Suger
Eleanor always struggled with Louis' spiritual father, Abbot Suger, for influence over the king. She was also forced to go to battle with the Church over her sister's marriage, which was condemned by Rome. Always before, the King had been able to direct his bishops to hand out annulments when and where he pleased, but when Eleanor's sister Petra wanted to marry an already married man, Rome stood firm against it. It took many years and no doubt many bribes to bring Rome around to Eleanor's way of thinking, to persuade the Papacy to support her sister's marriage to Raoul de Vermandois.
Eleanor went to open war against the Church to secure her own annulment from Louis VII, but it was only when her husband finally asked for their marriage to be dissolved that Eleanor got her wish. Freedom from her fifteen year marriage to the King of France was a long sought after goal, but the power of the Church had become so centralized that Eleanor and Louis had to send bribes and envoys to Rome to see it done.
Under her second husband's influence, Eleanor began to learn that more might be obtained from the Church with honey than with vinegar. Instead of openly challenging the Church at every turn as she often had done while married to Louis VII, Eleanor began to build monasteries, nunneries, and to endow abbeys. These places depended not on Rome but on her donations for survival, and their growing influence in turn increased her own. She made a sort of truce with the Church as her life went on, retiring to Fontevrault Abbey, dying there in 1204.
Eleanor stood on a slippery slope when fighting the power and influence of the Church. The world was changing. With one Crusade after another launched against the Holy Land, the Popes of Rome grew in influence over the sword-wielding kings of Western Europe. It was a long road to the establishment of the Inquisition, and Eleanor's lifelong struggle with the power of the Church was only one step along that road.
---
March 25, 2011: KATE LEDGER
Kate Ledger's fascinating novel, REMEDIES, received a starred review from Publishers Weekly, and raves from Kirkus, Minneapolis StarTribune, Baltimore magazine, The National Post (of Canada), among others. It was selected as a Self magazine book pick, an Ingram Premier Pick, and was chosen as the community read of the Twin Cities Jewish Book Fair. It's now out in paperback. You can read more about the book at her website: www.kateledger.com
I found Kate's post, below, beautiful and convincing.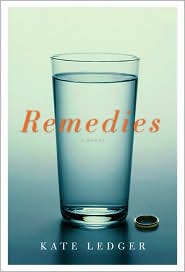 At the Loft Literary Center in Minneapolis, I teach a creative writing course for adults that I entitled "Turn What You Know into a Novel." The premise of the course is not the traditional dictum to "write what you know," but instead, to approach the spinning of a tale from the great store of knowledge—facts, skills, and even philosophies--you've amassed during your life. 
So I tell the class, usually staring at me shyly and with some skepticism, if you're an experienced gardener, the kind who can identify all kinds of plants by their leaves, describe gradations of dampness in the soil and articulate the difference between helpful bugs and harmful bugs, you can bring that treasure trove of familiarity, expertise—and yes, confidence!—to the writing of a novel. You don't have to write about bugs or soil (though your own knowledge base will undoubtedly make a novel richer), but you already know the depths of detail to bring a setting to life. Your own experience hanging out at the water-cooler gives you intuition, if not authority, about storytelling. You know each story has a beginning, a middle, and an end; there's rising action and tension; the events culminate in a satisfying, meaningful pay-off for the listener. 
Over the course of the semester, we do all kinds of writing exercises to figure out what we know, and to apply those skills to the crafting of a novel. And I've seen very shy students—the kind who, at first, not only avert my gaze but look like they're trying to read the print on the light fixtures because they're afraid I might call on them--come out of their shells and begin to read their exercises, and then their fiction, aloud. I imagine the course like a kind of mental Pilates, where you identify your core abdominal muscles, and you work from there. 
What I don't tell them is that the core muscles are sometimes all you've got when you're writing a novel. You start from a place on the map of your own experience, and then you begin to wander into territory that you didn't anticipate. You learn along the way. You reach into your life experience, and beyond it. And some of what appears on the page will be knowledge you didn't realize was important to you, but is, nevertheless. It's a long, winding road, and—even with the most detailed outline in hand—it's hard to predict what will happen. 
This was my experience writing my novel REMEDIES. The idea for the novel grew out of the medical magazine writing I do for a living. I felt comfortable writing about a doctor, and I already had plenty of information. And as I thought from this core place of knowledge, I knew I was captivated by certain types: those who made discoveries, some of which even contradicted current medical thinking. I'd met a surgeon who'd perfected an operation that had once been abandoned because it was considered too risky for patients. Another doctor I'd interviewed was treating a nerve in the knee that doesn't even exist in the anatomy books. Astounding! I set out to write about a fictional hero who discovers—or believes he's discovered--a treatment that society desperately needs. 
I began writing about a doctor who discovers a miraculous treatment for pain. I decided he'd be hell bent on making his discovery a reality. But in the course of writing, I began asking myself, Why? Why would this doctor be so invested in his patients' pain? It seemed his desire to help others might come from an inability to address emotional pain in his own life. I'd gotten married during this period of writing, and I'd also become a mother, and I began to draw from new sensibilities I'd attained about the world: I wasn't writing about a doctor's professional experience, but in fact, about the complexity of his entire world, his deeply troubled marriage and complicated role as a father. And I wasn't only writing about him, either. I was writing about an entire household navigating the effects of a tragedy in the past.
REMEDIES evolved into a story about a doctor named Simon Bear who's respected and even beloved by his patients. He's a guy with abundant energy and effusive ideas about improving medicine and making sure his patients' needs are met. His wife Emily is a successful public relations executive, with a track record fixing the reputations of companies and CEOs after crises. But their relationship has undergone the worst of all possible strains. Fifteen years ago they lost their first child, and they've never allowed themselves to grieve. 
Simon privately believes he should have seen signs of the baby's illness. Emily has resisted blaming him, forcing the family to move on from the tragedy. They've become parents to a second child, a girl named Jamie who's now thirteen year old, who's now revealing an undercurrent of problems all her own. Everything changes the summer Simon comes to believe he's discovered what may be a cure for pain. He becomes obsessed with giving the treatment to his most desperate patients, never realizing the effects on his family and never noticing that his wife is drifting from the marriage. Emily, meanwhile, encounters a man from her past, and his presence makes her realize that, for all these years, she's been walled off from feeling anything at all. 
I didn't anticipate that religion or religious experience would have anything to do with the recovery for the family in REMEDIES. I'm Jewish and attended Jewish schools throughout my childhood, though my family today is not very observant. But my Jewish identity was there in the trove of experience as I imagined this family's route to recovery. It was there among my core muscles—and I drew from that knowledge base, too, as I wrote. Though it started with ruminations about a doctor, REMEDIES became a story not just about his miracle cure, but about managing life's chaos, how we sometimes hinder our healing from tragedy and inadvertently hurt ourselves and each other. Ultimately, it's about how we discover answers that make sense, and how those truths we hold inside can point the way toward recovery.
As I teach, I tell my students to imagine themselves as adventurers and be open to the journey as they write their novels. Write an outline, but expect the outline to change. And be open to where the story leads you, I tell them, which is often right back to what you know. 
March 18, 2011: SUZY WITTEN
---
Suzy Witten's career spans twenty years in the entertainment industry: as a filmmaker, screenwriter, story analyst, and editor for film and television. A graduate of USC's School of Cinematic Arts, she was nominated for a "Lillian Gish" filmmaking award by Women In Film for her theatrical drama about Hollywood's teenage runaways, "Runaway Eden." She was also a Walt Disney Studios Fellowship Finalist for her period story of Salem. In addition to writing novels, she works as a Public Affairs Specialist, writer and researcher during disasters for FEMA (Federal Emergency Management Agency). The Afflicted Girls, her debut novel (which Suzy describes as Adult Historical Fiction, for ages 17 and older) won the 2010 IPPY Silver Medal for Historical Fiction (Independent Publisher Book Awards). Suzy hopes to develop this story into a mini-series for television. Presently, she is working on a second novel to be published in 2011. She resides in Los Angeles.
Thank you so much, Suzy, for contributing the post below, a powerful introduction to your compelling, award-winning novel.
The Collective Ghosts of Salem
by Suzy Witten
I have written one book: THE AFFLICTED GIRLS A Novel of Salem, published at the end of 2009, but a process begun in 1993 when I first picked the 1692 Salem witch hunt as the subject for a screenplay.
My research in those hard-to-imagine pre-internet days consisted of reading every book on Salem available in the Los Angeles Public Library; although some were too old and decrepit to be forwarded to my branch. I also searched through two university reference libraries. Of course, there were a handful of books I was able to take home for study. 
Sometime while taking notes, I got bitten by the ghostly bug still haunting Salem that hunts for blood and an audience. And sometimes I had to implore the books I was skimming to help me weed out dramatic irrelevancies. In the end I had collected more than a thousand disparate but novel facts, most of which were later incorporated into my novel. 126 single-spaced typewritten pages, indexed by character, subject, and strangeness, each item prompting its own unique scrutinization and speculation, because of my having learned at film school that motivation is key to a well-constructed dramatic story. 
I asked: Why would an indentured nineteen-year-old girl in Salem Village accuse a minister of witchcraft, a man she hasn't seen for years but once dwelt with in childhood after being orphaned on the Maine frontier? And what was the relationship between that minister and her Salem master? And why would the wife of her master simultaneously accuse an elderly neighbor of murdering her newborns? And not just one infant, but several? 
Hmmm. Only when I applied modern lenses did it all begin to make sense. And yet one puzzle remained elusive... until I coincidentally read an article in my local newspaper which hinted at the logical answer. A bit more research, and the mystery of "the afflictions" that sparked a 300-year-old witch hunt was solved. 
As my understanding of Salem evolved, and that mysterious gestalt came into focus, I began building gossamer bridges. Using my modest intellect and a well-developed intuition (from meditation), I let my left-brain analytical mind align with my rightside inner-listening, sensing, and seeing; a mindful collaboration, that must be known to most historical novelists, as well as to detectives and scientists, who also pursue Aha! moments. 
Angling (and realing) each of my characters through every applicable lens: psychology and depression—post-partum, post-traumatic—infanticide, rape, middle-aged impotence, child-spousal-elder abuse, alcoholism, class warfare, teenage angst, drug-taking, eco-warfare, sexual experimentation, superstition, five deadly sins, and spiritual belief—I sought possibilities and probabilites beyond historical records. Wherever a characteristic shoe fit, I let a character wear it.
Historical scholarship has begun to address these omissions. But back when I was writing my screenplay, it was absent. Only after publishing my novel did I learn how there were thousands of 17th century New Englanders charged with lewd speech, fornication, adultery, bigamy, rape, child molestation, incest, sodomy, bestiality, and infanticide. A 1693 sermon by Cotton Mather: "A Holy Rebuke to the Unclean Spirit," marks the execution of two women "for murdering of their bastard children.
Because contrary to popular belief, Puritans appear not to have repressed their sexual instincts at all. There were wild, mixed-sex parties at Harvard Divinity School in the late 17th century, as well as roving bands of local youth sneaking out after midnight seeking drunken revels. A result, perhaps, of their fathers and ministers couching sermons and stern warnings in erotic terms?
"If they offer to ravish our hears, we must cry out as the seized virgin, and call in help from heaven, to rescue us from the rape they offer us," one preached. While Cotton Mather pledged: "to lead a life of heavenly ejacuations," and his minister father Increase Mather taught: "Those not yet changed by regenerating grace of the spirit of God usually live in some unclean lust or another. Either fornication, or self-pollution (masturbation), or other wanton pranks of darkness." 
In Sunday sermons, Puritan ministers repeatedly warned their male parishioners against using their "members as weapons of unrighteousness." For, as Rev. John Rogers pointed out: "Every child of Adam is a lump of uncleanness."
And these same men, hyperventilating about sex, were the ones who manipulated and dominated the judicial system; punishing perpetrators and victims equally, believing that a female who was forced to have sex, "who had no delight in the act," could not possibly conceive... because she had to have an orgasm for conception to occur. Should she get pregnant, there soon came a trial, conviction, a painful corporeal punishment, and branding as a harlot. 
It's why most teenage girls, when indentured to other households by their parents, felt powerless to resist abuse, and remained utterly vulnerable to the advances of older masters, masters' sons, and neighbors. 
The historical records of Essex County, where my story is set, state that between the years 1645 and 1685 over 100 women and girls were convicted of bearing illegimate children. How about the rest? I would guess far too many miscarriages, abortions, and births resulting from rape have passed through time unreported. Of these, I suspect, some were suffered in the shadows of the witch hunt.
Historical characters all once lived flesh and blood lives in societies as messy and complex as ours. Mercy Lewis, Abigail Williams, Bridget Bishop, the Putnams and Porters, Rebecca Nurse, Sarah Good, Reverend Parris, Tituba and John Indian, Cotton Mather were each very much alive in 1692. Yet, for the last 300 years—as factoids—they've been mere wisps standing  in guard of the vaguest personal histories.
Perhaps, by becoming characters in a historical novel, they'll be able to bear witness to an intuitive rearrangement of fact, and their collective ghosts—with nothing shameful enough to hide from a modern world, or an interested fiction reader—can reach out from that infamous story's otherside to offer us plausible new conclusions. 
THE AFFLICTED GIRLS by Suzy Witten (ISBN: 978-0-615-32313-8) can be ordered from bookstores & online sellers worldwide.   www.theafflictedgirls.com
---
March 4, 2011: MARY SHARRATT
---
I am grateful to host the celebrated historical novelist Mary Sharratt. The author of the acclaimed Daughters Of The Witching Hill is an American  who has lived in the Pendle region of Lancashire, England for the past seven years. Winner of numerous literary awards, Mary has previously written  the critically acclaimed novels Summit Avenue (Coffee House 2000), The Real Minerva (Houghton Mifflin 2004), and The Vanishing Point (Houghton Mifflin 2006). 
I was personally captivated by the post she submitted for this blog, below, in which she tells the intriguing story of how she discovered, researched, and wrote her most recent book.
How I Became a Daughter of the Witching Hill by Mary Sharratt
In midwinter 2002, I moved from the Bay Area in California to Lancashire, England. I've traveled around the world and lived in many different places, from Germany to Belgium. But what ensued from this relocation was the biggest culture and climate shock of my life. In Northern England, the winters are so dark and oppressive—I felt as though I were trapped inside some claustrophobic gothic novel. My husband and I moved to an old industrial town, our newly built house on the site of a demolished factory. Surrounding all this post-industrial bleakness was a landscape straight out of a fairy tale. In spring the hedges were lacy with hawthorn. Ewes birthed their lambs in the meadow behind our house.
Our house looks out on Pendle Hill, famous throughout the world as the place where George Fox received his vision that moved him to found the Quaker religion in 1652. But Pendle is also steeped in its legends of the Lancashire Witches.
In 1612, nine people from Pendle Forest were executed for witchcraft. The most notorious of the accused, Bess Southerns, aka Mother Demdike, cheated the hangman by dying in prison. This is how Thomas Potts describes her in The Wonderfull Discoverie of Witches in the Countie of Lancaster:
She was a very old woman, about the age of Foure-score yeares, and had
been a Witch for fiftie yeares. Shee dwelt in the Forrest of Pendle, a vast
place, fitte for her profession: What shee committed in her time, no man
knowes. . . . no man escaped her, or her Furies.
Once I read this, I fell in love. Reading the trial transcripts against the grain, I was astounded how her strength of character blazed forth in the document written to vilify her. She freely admitted to being a healer and a cunning woman, and she instructed her daughter and granddaughter in the ways of magic. Her neighbors called on her to cure their children and their cattle. What fascinated me was not that Bess was arrested on witchcraft charges but that the authorities turned on her only near the end of her long, productive career. She practiced her craft for decades before anybody dared to interfere with her.
Bess's life unfolded almost literally in my backyard. Using the Ordinance Survey Map, I located the site of Malkin Tower, once her home. Now only the foundations remain. I board my beautiful Welsh mare at a stable near Read Hall, once home to Roger Nowell, the magistrate responsible for sending Bess and the other Pendle Witches to their deaths. Every weekend, I walked or rode my mare down the tracks of Pendle Forest. Quietening myself, I learned to listen, to allow Bess's voice to well up from the land. Her passion, her tale enveloped me. 
I'm often asked if it was a depressing experience, writing about Bess and her family when I knew very well how their tale ended—on the gallows of Lancaster Castle. Although it was harrowing to write of the injustice they suffered, it was my duty as a novelist to serve their memory and bear witness. And not just that—to me, their story is transcendent rather than purely tragic, and I do hope that comes across in the novel. Death was not the end of these women. The original title of the book was A Light Far-Shining and I believe that theirs was an inner radiance and power that death could not extinguish. 
History is a fluid thing that continually shapes the present. As a writer, I am obsessed with how the true stories of our ancestors haunt the land. Long after her demise, Bess and her fellow witches of Pendle Forest endure. This is their home, their seat of power, and they shall never be banished. By delving into Bess's story, I have become an adopted daughter of her living landscape, one of many tellers who spin her unending tale.   
Mary Sharratt's acclaimed novel DAUGHTERS OF THE WITCHING HILL is now out in Mariner paperback. To learn more about historical witches and cunning folk, visit her website: http://marysharratt.com/ . She is currently at work on a new novel revealing the dramatic life of 12th visionary abbess and composer, Hildegard von Bingen, which will be published by Houghton Mifflin Harcourt in Spring 2012. 
Link to buy the book: http://www.amazon.com/Daughters-Witching-Hill-Mary-Sharratt/dp/0547422296/wwwmarysharra-20/
Video trailer/Docudrama: http://www.youtube.com/watch?v=KT-In065-gA
---
February 25, 2011: C.W. GORTNER
---
I am honored to host the talented and acclaimed historical novelist, C.
W. Gortner, 
author of The Last Queen, The Confessions of Catherine de Medici, and most recently the Elizabethan spy novel, The Tudor Secret. 
Mr. Gortner's work has been translated into thirteen languages and has received international accolades. An expert on the renaissance, the half-Spanish Mr. Gortner resides in Northern California. 
In the essay below, Mr. Gortner discusses mankind's perpetual fascination with spies and Queen Elizabeth's reliance on one spy in particular.
Birth of a Spymaster: Francis Walsingham and Tudor Espionage 
C.W. Gortner

Spies have intrigued us ever since we started telling stories. I imagine that even cavemen told tales of those who infiltrated rival tribes to ferret out secrets and report back on potentially damaging plans. The clandestine act of obtaining information for a cause, while risking one's life, carries with it an undeniable glamour and adrenaline rush that many of us find irresistible.

The Chinese and the Mongols used spies; feudal Japan relied on ninjas to gather valuable information. In Elizabethan England, Francis Walsingham is credited with giving rise to the modern notion of intelligence gathering, creating a vast organization dedicated to protecting the queen. Walsingham's targets were Catholic agitators, such as Jesuit priests, assassins and other recusants who might subvert or otherwise damage the established order. Whether or not it was right to hunt down those who opposed a particular religious view was beside the point. So iconic has Elizabeth become in our eyes, so gloriously do we view her realm, in comparison to the brutal suppressions of Spain, that protecting her seems like the right, indeed, the only, thing to do. While Elizabeth herself was known to dislike Walsingham's methodology— which included torture— dubbing him her "Moor" because of his complexion or preference for dark clothes or perhaps his infamously somber personality, she contended with his brusque manner. She understood that he was the right man for a nasty job, unparalleled in his competence and fervor, his penetrating insight into foreign affairs, and his devotion to her safety. To him, she was England—the heart and soul of the Protestant movement. She faced a formidable foe in the Catholic king of Spain and legions of dedicated counter-reformation fanatics whom Philip unleashed. Papal dispensation guaranteed passage to Heaven to whoever managed to murder the queen of England. Walsingham was determined that no Catholic on his watch would ever win that prize.

Since time began, there have been men willing to die for a cause; we only need to look at our world today to see that. Some also put themselves at the service of a charismatic leader; and Elizabeth was indeed that. She promised tolerance in an intolerant age; she wanted peace and prosperity for her subjects, above all else. While the latter days of her reign were plagued by upheavals and a savage persecution, she had been literally yanked into that stance by the advent of the Armada and the very real threat of another on the horizon. Walsingham drew upon Elizabeth's charisma and the threat posed by the Counter Reformation to conscript men of both noble and ordinary birth, who decided they had to do something to safeguard their way of life.

In The Tudor Secret, we meet Francis Walsingham before he becomes Elizabeth's trusted spymaster. Here, he is still a hireling of the princess's secret protector, William Cecil, but he's already converted to the reformed faith upheld by Elizabeth and her brother, King Edward. Dark and enigmatic, Walsingham abducts Brendan Prescott, the book's lead character, who as a squire to the Dudley family, is drawn into Cecil's burgeoning spy network in order to uncover a conspiracy against the princess. Walsingham trails Brendan; lurking in shadows, he is a panther with a knife, disapproving of the callow youth whom Cecil has seen fit to hire. Is he friend or foe? Will he help or hinder Brendan's mission?

It is the beginning of the grand era of Tudor espionage and of Brendan's, and his rival Walsingham's, service to an embattled future queen.


Thank you so much for spending this time with me. To learn more about me and my books, as well as access special features, please visit me at:
http://www.cwgortner.com
. Happy reading!